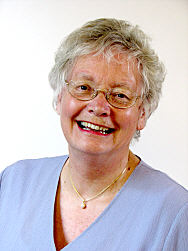 Margaret Rumens
International Flower Arranging and Design
Margaret is a qualified NAFAS National Demonstrator, Judge, Teaching Coach and an Area Speaker.
She is dedicated to furthering excellence in Floral Art and Design and was the initiator and founder chairman of Centrix - the comtemporary Floral Designers in the South Midlands. She is a Past President of the South Midlands Area of NAFAS.
Margaret's work has won a Gold Medal at the Chelsea Flower Show where she now judges regularly and she has  demonstrated at the NAFAS National Assembly. She was recently selected to coach her peers at their 3 yearly National Judges Course having previously performed a similar workshop at the National Demonstrators Symposium
Margaret is Chairman the management team for the NAFAS National Show being responsible for the success and viability of this major international event
Margaret was also invited to judge at the World Association of Flower Arrangers Show in Glasgow in 2002
She is also immediate past-Chairman of the Flower Arrangement and Floristry Judging Committee of the RHS still regularly judges at Chelsea, Hampton Court, Tatton Park and other major RHS events.